Transform Iowa's native ecosystems as part of Prudenterra's team!
Opportunities at Prudenterra
Now Hiring: Operations Assistant 
Application Period: January 17th – February 14th, 2020
Do you love to work outside? Want to enhance the environment for Iowans? Enjoy operating and fixing power tools? Prudenterra is looking for one Operations Assistant to help implement ecological restoration projects for private landowners statewide.
This position is a seasonal, part-time to full-time position that primarily works outside. A few examples of projects are: planting windbreaks, seeding prairies, prescribed fires, and restoring streambanks. On days where we are not working with clients, you might find yourself building a new shelf in the workshop, providing tree nursery care, or performing routine machine repair maintenance.
The busiest months are typically March through June and October through December. Work is completed during the standard work week, Monday through Friday, and on an occasional Saturday or Sunday as needed. This position offers a flexible schedule in an environment that encourages professional development in conservation work, training, and working outdoors.
About Prudenterra
Prudenterra's mission is to empower landowners to strategically restore thriving, profitable perennials and maintain them for generations.
55% of our work is

prairie management

–mowing, seeding, spraying, and burning.

30% is

forest management

–thinning, planting, and timber sale administration.

10% is

innovative land management installations

–streambank restoration, wetland reconstruction, and keyline design for tree crop orchards or silvopasture.

5% is consulting services–

interpreting and evaluating ecosystems

for landowners and providing recommendations to achieve their goals and objectives.
Job Duties and Responsibilities
The

primary responsibility

of this job is to assist the Operations Coordinator and Project Manager in the successful completion of client projects through your knowledge and physical manpower. 

Some of the projects you might find yourself working on

:

Prescribed burns

Prairie seeding

Tree and shrub planting

Mowing

Chainsaw and other power tool operations

Herbicide application

Other duties as assigned
Minimum Requirements
Operating Equipment:

Experience safely and effectively operating chainsaws and other power tools.

Resilience:

Able to conduct physically demanding work, crouch over, lift up to 50 pounds, and walk on rugged surfaces.

Work outside in seasonally variable conditions with wear appropriate protective clothing.

Driving:

Hold a valid driver's license with a good driving record.

Follow safe driving practices. Helpful if you are able to successfully load and haul trucks and trailers.

Able to commute in your own vehicle to Prudenterra headquarters in Nevada, Iowa.

Teamwork: 

Effective and direct communicator. Welcoming and friendly to clients. A thoughtful team member. Able to communicate efficiently via phone call, text, email, and online server within a timely manner and within reasonable accommodation. 

Reliable:

 

Punctual, dependable, organized. Highly motivated and self-directed, whether working independently or collaboratively.
Desired Qualifications
Botanical Identification:

Identify common species by bark, buds, and leaves. Common name by genus is sufficient–i.e. hickory, oak, ash, elm.

Equipment Use and Maintenance:

Clean, maintain, and repair small tools and equipment such as engine chainsaws, pole saws, and weed trimmers of various makes and models (Stihl 192/193, 261MC, 362, etc.), as well as a 45 hp tractor, Kawasaki Mule, and water pumps.

Prescribed Burn Experience:

Any experience working on a burn crew or fire team is desirable. Passion or interest in learning how to work as a burn crew or fire team member is required. 
Certifications
Pesticide Application:

Iowa Commercial Certified Pesticide Applicators' License Core Manual as well as Forest Pest Add-on, Ornamental & Turf Add-on.

Prescribed Fire:

National Wildfire Coordinating Group (NWCG) S130/S190 Fire Training Courses.
If not currently in possession of these certifications, the willingness to acquire these is required.
Compensation
Starting hourly pay rate of $10.00-$11.00 / hour DOE.

Overtime is not to be expected, but in the rare case that it happens, overtime pay is offered for weeks when work is performed in excess of 40 hours at x 1.5 hourly rate.
Mileage
Most travel to job sites is conducted in Prudenterra vehicles, but in cases when employees must drive a personal vehicle from Prudenterra headquarters to a job site, mileage is reimbursed.
Benefits
Training for all jobs is provided given that you work diligently and are willing to learn. We will aid you in your completion of fire training, pesticide application, and other certificates if necessary.

Workers' Compensation Insurance is provided in the event of a work-related injury or accident.
Ideal Start Date
To Apply
Questions related to this specific position may be directed to sam@prudenterra.com
Submit cover letter, resume, and three professional reference's contact information to Project Manager at sam@prudenterra.com.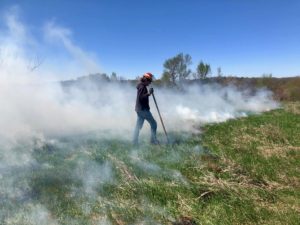 Interested in joining our team? Drop us a line to let us know what you are passionate about and tap into upcoming opportunities.
Call or email us real quick to join our "on-call" daily hire list. Join an enthusiastic, informed and friendly group of conservationists for a day every once in a while. Let us know your availability, contact information (phone and email) as well as what activities interest you, such as prescribed burns.