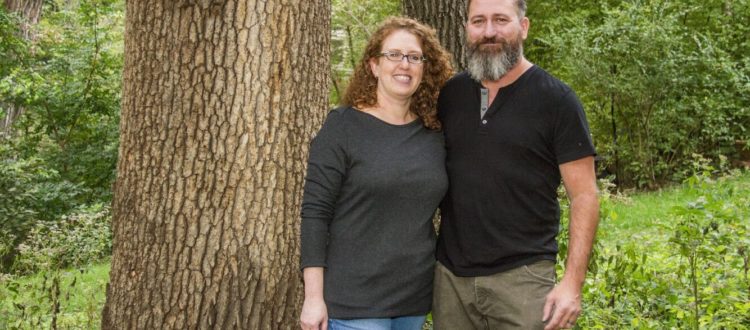 Improving Habitat for Wildlife in an Urban Forest
Laura and Shawn Lewis selected their home in Ames for its proximity to campus and downtown, and the characteristics of the house itself–not for the wooded backyard. But they wanted to understand what was growing in their urban forest and how to manage it well, so they called an urban tree expert. "The arborist mostly looked at the trees right next to the house. He wanted to trim them, cut them down, treat them, but didn't look at what the whole property included, or identify what the trees were," explained Laura.
Then, they learned that their neighbor, who also has a wooded backyard, had asked a forester (Luke Gran) to come and walk through their land to help them create a better home for native wildlife. He had explained the structure, conditions, and history of the woodland, in addition to which species they could plant, and which species to remove to improve the habitat. This holistic approach to assessing and managing the woodland was much closer to what Laura was seeking, so she decided to investigate the forester's company (Prudenterra) online, and then give Luke a call.
After talking it over on the phone with Luke, Laura felt that a Land Walk was the step they needed to take to begin understanding and strategically managing their land. Shawn, on the other hand, was a little hesitant. On the day of the walk in April of 2016, Laura recalled, "Luke showed up and before we even got a quarter of the way around the house, Shawn's eyes just lit up. He was loving every second of hearing the information about the land, oak trees, and shagbark hickories. We wanted to appreciate the land on a whole other level and it gave us that."
Following the Land Walk, Shawn and Laura began working toward their goals of managing their urban forest for biodiversity and wildlife habitat, making it more walkable and enjoyable, and ameliorating erosion. Luke had explained which shrubs he recommended to be removed (predominantly invasive honeysuckle) through the practice of Strategic Tree Selection. In August, Shawn used a chainsaw to cut out the shrubs, and then applied glyphosate herbicide to the stumps.

Removing the honeysuckle had an immediate and profound impact on Laura and Shawn's interactions with the woodland. For the first time, they had a clear view of deer and other wildlife through the summer foliage. "It completely changed our perspective of the property," Laura reflected. "In the summer it would become a wall of green. While beautiful, it looked like our yard stopped there because it was so densely wooded. After Shawn removed all the honeysuckle, the view is so amazing. We can look out and see the whole property–it looks so much larger."
With the woody debris from the honeysuckle cutting, as well as larger logs from previously fallen trees, Laura and Shawn constructed three wildlife brush shelters to provide habitat for birds, pollinators, and other wildlife. Laura noted, "Understanding the purposes of the brush piles rather than sending all the yard waste away was a big learning experience. This winter we were walking through the yard and just saw the brushpile come to life with how many things were living in there. The birds were amazing." They now hear owls much more frequently, and have not had mice in the house as in previous winters.
Learning about its plants and animals has had a big impact on the Shawn and Laura's experience of living next to an urban forest. "It became something we can be a part of, and understand how the wildlife can be a part of it as well," Laura explained. "With knowledge of what the trees are, we find ourselves appreciating it so much more. Shagbark hickory went from being our least favorite tree to most favorite. We had thought it looked like a diseased tree, but now we understand how important its flaky bark is for bat habitat!"
This will be the first spring since the woodland has been opened up, and Shawn and Laura are excited to see what native species of wildflowers, shrubs, and wildlife appear. They plan to retain the beauty and peace of the urban forest while incorporating a winding path winding to enjoy it more fully. With increased air movement through the woodland, they are also hoping to be able to spend more time outdoors without the same intensity of mosquitos.
Looking to the future, Laura and Shawn plan to continue to manage their backyard to meet their goals. "We want to figure out what to plant in the backyard to feed the deer and other wildlife year-round," mentioned Laura. In addition to planting native fruit and nut-bearing shrubs, they may also encourage the next generation of oaks and hickories in their woodland by conducting a prescribed burn this fall.
More about Strategic Tree Selection:
https://youtube.com/watch?v=Cp1uU2f4ciQ%3Fecver%3D2%2520width%3D640%2520height%3D360%2520frameborder%3D0%2520style%3Dposition%3Aabsolute%3Bwidth%3A100%25%3Bheight%3A100%25%3Bleft%3A0%2520allowfullscreen